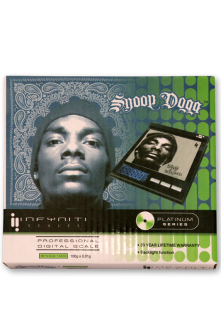 Infynity Snoop Dog Scale: SNCO-100 - Pack of 1
Introducing the Infyniti: Snoop Dog SNCO-100 digital scale – your ultimate weighing companion! This sleek scale can measure items up to 100g with an incredible accuracy of 0.01g, ensuring you get precise results every time.
Backed by a 30-year lifetime warranty, it's built to last. Whether you're measuring ingredients for your culinary creations, precious gems, or any small items, this scale's got you covered.
With Snoop Dog's style and Infyniti's quality, it's a must-have tool for professionals and enthusiasts alike. Get ready for accurate weighing and long-lasting performance that you can trust.
---
Total of 1 Infyniti: Snoop Dog SNCO-100 digital scale. Measures up to 100g with a 0.01g accuracy.
There are currently no reviews for this product.