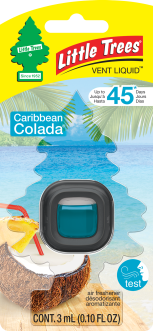 Little Tree Vent Liquid: Caribbean Colada - Pack of 2
A pleasing aroma makes your environment positive and increases the vibes of the atmosphere. 
Uplift the ambience with the most refreshing and stunning Little Tree Vent Liquid. It has fantastic and balanced revitalizing incense, and it comes in the form of various exotic liquid flavours, which form a long-lasting fragrance and lasts for at least 45 days.  
  
The best thing about the Little Tree Vent Liquid is that it easily sticks onto the air vent of the cars and eliminates the smell from where the odour enters. It is very easy to use as you just have to put some liquid into the air vents. 
Refreshing and ravishing smell every metre you drive.
---
2 packs of 1 vent liquid in each. Total of 2 individual Little Tree: Caribbean Colada vent liquids.
There are currently no reviews for this product.