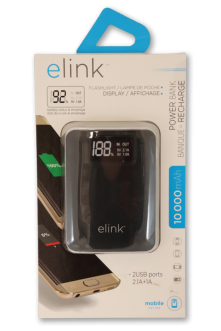 Elink Power Bank: 10000 mAh
Availability:
Not in Stock!
Discover the ultimate Elink Power Bank Pack – your go-to solution for charging on the fly! Unveil one supercharged power bank with a whopping 10000 mAh capacity in each pack.
That's right; one fantastic power bank ensures you're powered up consistently. And guess what? We've added a nifty flashlight too! Whether it's charging or illuminating, we've got you covered.
Embrace portability and power with Elink – it's not just a power bank; it's your reliable energy partner. Stay connected and brilliantly lit with the Elink Power Bank Pack wherever you wander.
---
1 pack of 1 power bank in each. Total of 1 individual Elink: 10000 mAh power banks. Flashlight included
There are currently no reviews for this product.