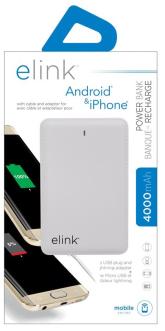 Elink Power Bank: 4000 mAh
Do you want to get your hands on a power bank that powers your cell phone and comes with an add-on functionality? Well, here is an all-new product that is ELINK POWER BANK.
 
The ELINK POWER BANK charges your cell phone. It is compatible with cell phones and other portable devices. The ELINK POWER BANK has a USB charging port.
 
The 4000 mAh battery quickly charges your cell phone and formulates a good time battery saver.
 
The battery feature is handy for you when you are travelling at night.
---
1 pack of 1 power bank in each. Total of 1 individual Elink: 4000 mAh power banks. Compatible with iPhone and Android.
There are currently no reviews for this product.