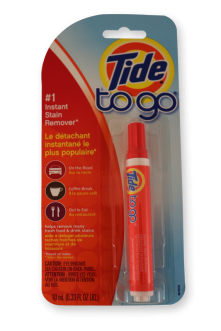 Some food items and drinks stains are so rigid that they will always leave an after-wash spot on your favourite clothes, spoiling those clothes' look. Well, this won't be a big problem now. The TIDE TO GO STAIN REMOVER has got everything you need.
The TIDE TO GO STAIN REMOVER has effectively removed dark and rigid stains from light-coloured clothes and has gained positive customer reviews. 
The best thing about TIDE TO GO STAIN REMOVER is that you can carry it anywhere and get rid of the stain anytime. For instance, if you are on a road trip, having a coffee break, or enjoying dinner.
---
Total of 1 Tide to Go 10mL stain remover bottles. Instant stain remover, helping to remove fresh food and drink stains.
There are currently no reviews for this product.