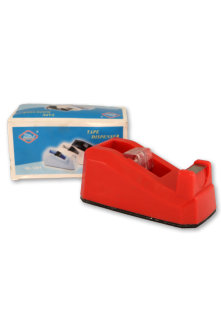 Tape Dispenser: Red - Pack of 1
Introducing our Red Tape Dispenser – your ultimate tool for effortless taping! This sleek dispenser includes one red tape holder, making it a stylish workspace addition.
Easy to use, it ensures smooth tape application for all your projects. *Scotch tape is not included, allowing you to use your preferred tape. Say goodbye to fumbling with rolls and tangled tape – streamline your taping tasks with our Red Tape Dispenser.
It's time to stick with convenience and add a pop of colour to your desk. Get organized and get things done with this must-have accessory!
---
Total of 1 red tape dispensers. *Scotch tape not included.
There are currently no reviews for this product.