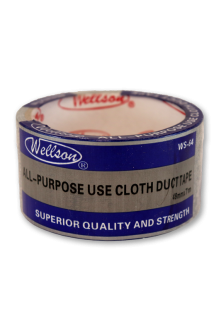 Duct Tape: Cloth 7m - Pack of 1
Wellson's Cloth Duct Tapes! Get ready for 7 meters of pure tape power, all wrapped up in a single roll. With a sturdy 48mm width, this tape is your new DIY sidekick.
Fix things up, stick things together – it's your go-to for all those little jobs around the house. Whether you're a crafting champ or a repair rookie, Wellson's Cloth Duct Tape is here to save the day.
Trust us, you'll wonder how you ever managed without it. Grab yours now and conquer your to-do list with Wellson!
---
Total of 1 Cloth Duct (7m) tapes.
There are currently no reviews for this product.