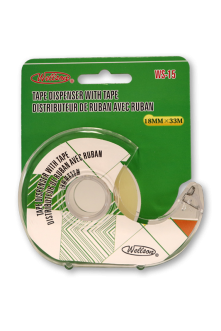 Tape Dispenser: Clear - Pack of 1
Introducing our Clear Tape Dispenser Pack! Inside, you'll find one convenient tape dispenser, perfect for all your taping needs. You receive one clear tape dispenser with one pack, sleek and practical.
Plus, we've included a single roll of reliable scotch tape to get you started immediately. Whether for crafting, wrapping gifts, or everyday tasks, this tape dispenser pack ensures you have what you need.
Enjoy easy, hassle-free taping with this user-friendly and durable dispenser. Get organized and tackle projects with confidence using our Clear Tape Dispenser Pack!
---
1 pack of 1 tape dispenser in each. Total of 1 clear tape dispenser. *Single scotch tape included.
There are currently no reviews for this product.