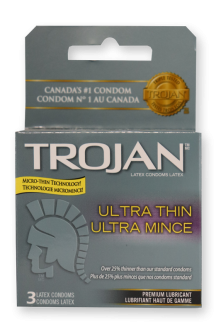 Trojan: Ultra Thin - Pack of 1
Elevate your intimate experience with our premium offering: 3 Trojan Ultra Thin condoms. Immerse yourself in pleasure and intimacy with these exquisitely designed condoms, each meticulously crafted for a heightened sensation.
These condoms are more than just protection – they're a gateway to a world of connection and ecstasy. With a thinness that surpasses the ordinary by over 25%, you'll feel an unparalleled closeness like never before.
Unveil a new dimension of passion and security with our pack, ensuring you savour every moment, every touch. Choose the ultimate in comfort and pleasure; choose Trojan Ultra Thin condoms.
---
1 pack of 3 condoms in each. Total of 3 individual Trojan: Ultra Thin condoms. Over 25% thinner than the standard condom.
There are currently no reviews for this product.