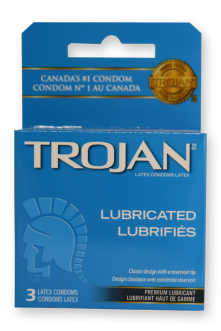 Trojan: Lubricated - Pack of 1
Avoid friction and irritation with TROJAN CONDOMS. TROJAN CONDOMS are well lubricated and avoid tension and friction to formulate a smooth activity.
 
A lubricated condom reduces the chance of tearing or ribbing the condom during sex, and TROJAN CONDOMS is rated the best product because of its high lubrication.
 
TROJAN CONDOMS boasts a classic design with a reservoir tip for added safety against spills and added pleasure.
 
The TROJAN CONDOMS are available in different sizes and flavours. Each has other specifications and features. You can choose the best desired and zone out with our TROJAN CONDOMS.
---
1 pack of 3 condoms in each. Total of 3 individual Trojan: Lubricated condoms.
There are currently no reviews for this product.