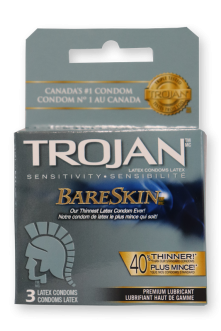 Trojan: Bareskin - Pack of 1
Introducing our product: Trojan Bareskin Condoms! Each package contains three individual condoms, providing you with three premium protections.
With a natural feel and ultra-thin design, these condoms ensure safety and comfort during intimate moments. Crafted by Trojan, a trusted name in sexual health, these Bareskin condoms offer a heightened sensation for a more personal experience.
Stay confident and protected while enjoying the closeness you desire. Discover the pleasure of a barely-there sensation with Trojan Bareskin condoms – because your satisfaction and safety are our priorities.
---
1 pack of 3 condoms in each. Total of 3 individual Trojan: Bareskin condoms.
There are currently no reviews for this product.