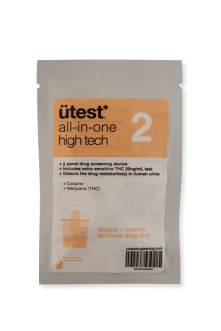 UTEST All-In-One: 2 Panel - Pack of 1
Availability:
Not in Stock!
Are you looking for a home drug test device? Well, it seems like you have got to the right place. The UTEST high-tech drug test device enables you to test the drug availability in the body at the convenience of your home without stepping out.
 
The UTEST has a 2-panel drug screening device that includes additional sensitive THC 20ng/ml tests and detects metabolites in the human urine.
 
The UTEST is simple to use and has a manual guide containing a detailed step-to-step process.
 
The accuracy of UTEST ranges from 94.0% to 98.3% for THC, 97.4% to 98.0% for COC, and 99.7% to 100% for OPI.
---
Detects Cocaine (COC) and/or Marijuana (THC) metabolite(s) in the urine. Total of 1 High-Tech UTEST: All-In-One 2 Panel testing kit.
There are currently no reviews for this product.