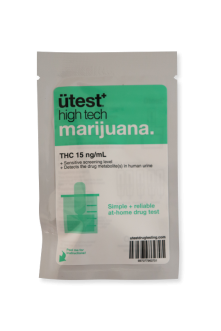 UTEST Marijuana: THC 15ng/mL - Pack of 1
The High-Tech UTEST THC 15ng/mL Drug Testing Kit. Designed for easy use, it detects drug metabolites in urine accurately.
Ideal for individual use, this kit employs cutting-edge technology to identify THC at a sensitivity of 15ng/mL. Whether for personal health or compliance reasons, our kit offers reliable results in the comfort of your own space. Stay informed about your well-being with this user-friendly testing solution
---
Detects drug metabolite(s) in the urine. Total of 1 individual High-Tech UTEST: THC 15ng/mL drug testing kit.
There are currently no reviews for this product.