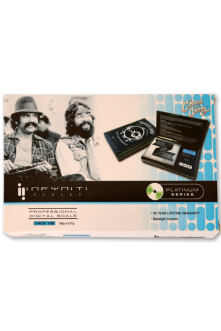 Infynity Cheech & Chong Executive Scale: CHCG-100 - Pack of 1
Cheech & Chong CHCG-100 digital scale! Elevate your weighing experience with style and accuracy. This cutting-edge scale can handle up to 100g of weight, ensuring up to 0.01g precision.
Whether you're a culinary artist, a jewelry enthusiast, or want accurate measurements, this scale has you covered. And guess what? It's backed by an impressive 30-year lifetime warranty, guaranteeing lasting performance.
With its sleek design, easy-to-use features, and iconic quality, the CHCG-100 digital scale is a must-have for anyone seeking perfection in measurement. Get ready to weigh in with flair!
---
Total of 1 Infyniti: Cheech & Chong CHCG-100 digital scale. Measures up to 100g with a 0.01g accuracy.
There are currently no reviews for this product.