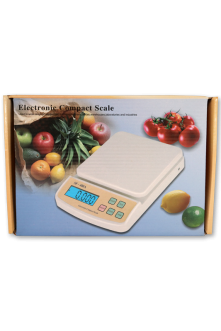 Electronic Compact Scale - Pack of 1
Introducing our Electronic Compact Scale: Your all-in-one weighing solution. With a capacity of up to 2000g, it effortlessly switches between kg, g, lb, and oz units, catering to your diverse needs.
 The standout feature? Precise counting of individual pieces. Whether for cooking, crafting, or mailing, this scale ensures accuracy. Its compact design fits any space, while the user-friendly interface makes operation a breeze.
Simplify your tasks with this versatile scale that combines measurement and conversion, all while guaranteeing pinpoint precision. It's time to elevate your weighing experience with our Electronic Compact Scale.
---
Total of 1 Electronic Compact Scale. Measures up to 2000g and performs kg/g/lb/oz conversions, as well as accurate individual piece counting.
There are currently no reviews for this product.