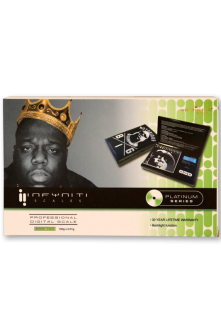 Infyniti Notorious Executive Scale: BGG-100 - Pack of 1
Elevate your weighing game with the Infyniti: Notorious BGG-100 digital scale! This stylish scale doesn't just look good – it's a precision powerhouse, accurately measuring up to 100g with an incredible 0.01g precision.
Whether you're a culinary artist, a crafting enthusiast, or need accurate measurements, this scale is your perfect partner. Plus, enjoy worry-free usage with a generous 30-year lifetime warranty.
Get ready for precise measurements and sleek design all wrapped up in one. The future of accurate weighing is here – it's time to experience the Infyniti difference!
---
Total of 1 Infyniti: Notorious BGG-100 digital scale. Measures up to 100g with a 0.01g accuracy.
There are currently no reviews for this product.