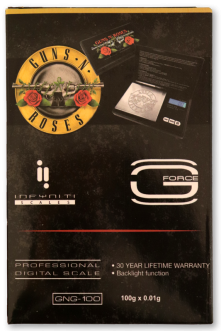 Guns N Roses Infinity Scale: GNG-100 - Pack of 1
Availability:
Not in Stock!
The Guns N' Roses Infyniti: GNG-100 Digital Scale! It's your ultimate tool for precise measurements. Whether you're weighing ingredients for recipes, jewelry, or small items, this scale covers you. With a maximum capacity of 100g and accuracy down to 0.01g, you'll get spot-on results every time.
The built-in backlight ensures easy reading even in low light. Plus, enjoy peace of mind with its impressive 30-year lifetime warranty. It's more than a scale; it's a reliable companion for all your weighing needs, backed by the legendary Guns N' Roses vibe.
Get ready to measure with rock-solid accuracy!
---
Total of 1 Guns N Roses Infyniti: GNG-100 digital scale. Measures up to 100g with a 0.01g accuracy.
There are currently no reviews for this product.