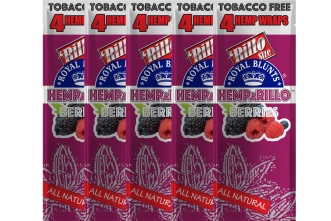 Royal Blunts Wraps - Pack of 5
Berries Hemparillo: 5 packs of 4 hemp wraps in each. Total of 20 individual Royal Blunts
Introducing Berries Hemparillo: Enjoy a delightful experience with 20 individual Royal Blunts, neatly packaged as 5 packs of 4 hemp wraps each. Indulge in the sweet fusion of berries as you roll your favourite herbs or tobacco.
 
Crafted for an easy, smooth roll, these hemp wraps add a touch of natural goodness to your smoking ritual. 

With Berries Hemparillo, elevate your moments with a burst of fruity essence and the satisfaction of a perfectly rolled smoke. 
Unwrap the joy of simplicity and flavour – one Hemparillo at a time.
 
There are currently no reviews for this product.