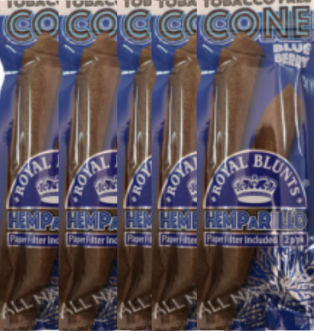 Royal Blunts Cones - Pack of 5
Blueberry Cones: 5 Packs of 2 Cones in each. Total of 10 Royal Blunts Hemparillo.
Introducing our delightful Blueberry Cones! Each order brings you two packs, with two delicious cones in every pack, making it a total of four cones in each set. 
These cones are infused with the sweet essence of blueberries, offering a truly aromatic experience. Crafted with care, they are wrapped in Royal Blunts Hemparillo, ensuring a smooth and enjoyable smoke every time. 
Whether you're relaxing alone or sharing with friends, our Blueberry Cones are the perfect choice for a flavorful and convenient smoking session. Elevate your experience with the fruity touch of blueberries in every puff.
There are currently no reviews for this product.