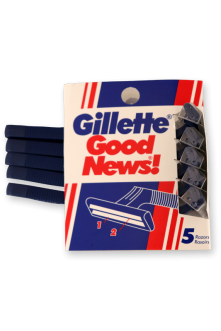 Razor: Gillette - Pack of 1
Razors have become an essential part of our daily life, and we require them for self-grooming. It is necessary to choose our razors as they might affect our skin wisely. Our skin is the most sensitive, and we must not cause any harm by selecting the wrong product.
The GILLETTE RAZOR has been rated the best product in terms of shaving and grooming. Its three-blade technology swiftly shaves the hair without creating any friction or irritation. 
The GILLETTE RAZOR helps lock the beards' moisture so they can be cut easily.
---
1 pack of 5 razors in each. Total of 5 individual Gillette razors.
There are currently no reviews for this product.