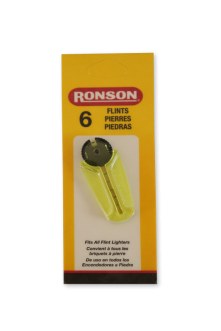 Flints: Ronson - Pack of 3
Introducing our convenient pack of Ronson flints! You'll receive three sets of six flints each, giving you a total of 18 reliable and long-lasting flints.
Say goodbye to frustrating moments trying to light up your favourite gas-powered devices. With Ronson flints, ignition becomes a breeze, ensuring a consistent and dependable spark every time.
Whether it's your trusty lighter or camping gear, these flints are the perfect companions for hassle-free lighting.
With 18 flints in this bundle, you'll have plenty to keep you going. Enjoy uninterrupted lighting with Ronson flints – your go-to solution for a smooth spark!
---
3 packs of 6 flints in each. Total of 18 individual Ronson flints.
There are currently no reviews for this product.