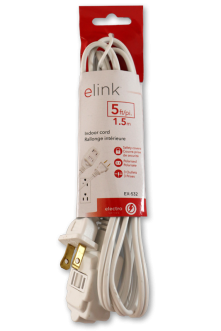 Facing difficulty finding more plugs in a single place, or do you have to sit near the charging point for several hours? Well, put an end to this hustle by purchasing the all-new ELINK EXTENSION CORD.
 
The ELINK EXTENSION CORD is available in various lengths and diameters based on your required needs. You can now connect your Tv, DVD, speakers and other electronic devices to a single charging point.
 
The ELINK EXTENSION CORD provides more extension to your devices and formulates a more significant length so it can easily reach distant places and supply the necessary power.
---
Total of 1 Indoor (5ft) electrical cables.
There are currently no reviews for this product.