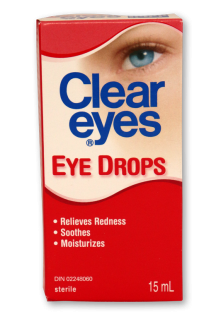 Clear Eyes: Eye Drops - Pack of 1
We often face eye irritation and the issue of itchy eyes. Eyes being the most sensitive part of our entire body, we are afraid of using any product on it.
 
Do not worry; Clear eyes are 100% safe as they are manufactured with organic elements and tested positively. These Clear eyes drop instantly helps you get rid of the itchy and red eyes and soothe them.
 
Not only does it cure the redness and itchiness of the eyes, but it also helps overcome the symptoms of building eye mucus.
---
1 pack with 1 bottle in each. Total of 1 Clear Eyes: Eye Drops 15 mL bottles.
There are currently no reviews for this product.