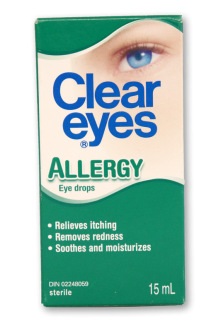 Clear Eyes: Allergy - Pack of 1
Discover soothing relief with Clear Eyes: Allergy eye drops. Each pack contains one 15 mL bottle, specially formulated to relieve itching and redness caused by allergies.
Our advanced formula alleviates discomfort and moisturizes your eyes, leaving them refreshed and revitalized. Whether pollen, pet dander, or other irritants, Clear Eyes: Allergy helps you regain clarity and comfort.
Experience the power of itch relief, redness removal, and soothing moisture in one convenient package.
Say goodbye to irritated eyes and hello to clear, comfortable vision with Clear Eyes: Allergy eye drops.
---
1 pack with 1 bottle in each. Total of 1 Clear Eyes: Allergy 15 mL bottles.
There are currently no reviews for this product.