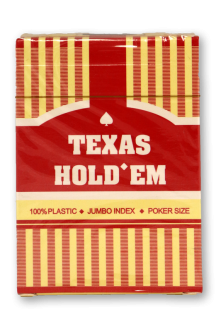 Texas Hold Em Playing Cards - Pack of 2
Playing cards has always been fun, whether for children or old age. To enjoy the game thoroughly and add a bit of spice, you will require a premium deck of PLAYING CARDS.
Check our premium PLAYING CARDS which are made of high-quality material. Our PLAYING CARDS are easy to distribute as they have a silk base underneath them and do not get torn easily.
Perform your magic tricks with our PLAYING CARDS, or make a house of cards whatever you want. 
The sleek print of each PLAYING CARDS will always grab people's attention every time they watch it. 
---
2 packs of 1 complete deck in each. Total of 2 individually packed Texas Hold Em card decks.
There are currently no reviews for this product.