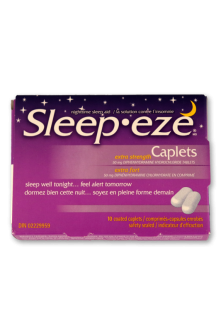 Sleepeze: Extra Strength - Pack of 1
Introducing Sleepeze: Extra Strength Caplets - your solution for a restful night's sleep. Each pack contains ten coated caplets, giving you a total of 10 powerful doses.
With 50gm of Diphenhydramine Hydrochloride and 50gm of Diphenhydramine Chlorhydrate per tablet, these caplets promote deep sleep. Experience relief from occasional sleeplessness and wake up refreshed.
Take one capsule before bedtime and enjoy the benefits of improved sleep quality. With Sleepeze, you can embrace each morning with renewed energy.
Say goodbye to sleep troubles and embrace the soothing rest you deserve with Sleepeze: Extra Strength Caplets.
---
1 pack of 10 coated caplets. Total of 10 Sleepeze: Extra Strength caplets.
There are currently no reviews for this product.