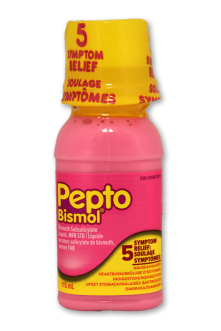 Pepto Bismol 115mL - Pack of 1
Introducing the Pepto Bismol 1-Pack! Inside, you'll find one convenient 115 mL bottle of soothing relief. Whether it's an upset stomach, indigestion, or heartburn, this single pack has covered you.
Just grab a bottle whenever you need fast and effective relief. Please keep it in your bag, at home, or even at work, so you're prepared to tackle any tummy trouble that comes your way.
With Pepto Bismol's trusted formula, you can say goodbye to discomfort and hello to feeling better. Get the relief you need with the simplicity of the Pepto Bismol 1-Pack.
---
1 pack with 1 bottle in each. Total of 1 Pepto Bismol: 115 mL bottles.
There are currently no reviews for this product.