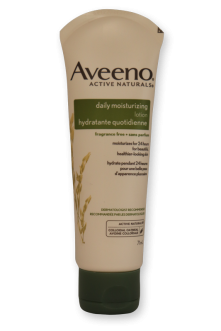 Lotion: Aveeno 71mL - Pack of 1
Taking care of your body is as important as taking care of your face. 
The AVEENO LOTION is one of the best products. The AVEENO LOTION is made of 100% natural ingredients, which makes it safe to use on all skin types, and its purity is the reason for its popularity.
AVEENO LOTION contains the goodness of natural extracts, such as activating ingredients, which are very beneficial for the skin. 
The activating ingredients help in deeply moisturizing the skin and soothe it. They are considered the best natural remedy for getting clear and hydrated skin. AVEENO LOTION moisturizes the skin without giving it a greasy feel, which is perfect for anyone with an oily skin complexion.
---
Total of 1 Aveeno: 71mL moisturizing lotions.
There are currently no reviews for this product.