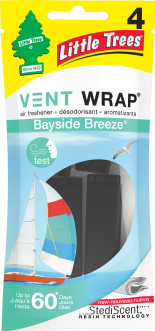 Adding a little fresh and pleasant aroma can revitalize your mood. The Little tree vent wrap is one of the most sensational fragrances and is an all-new and innovative way to keep your car filled with fragrance without actually placing a visible car freshener. The slim design allows it to be easily placed in the car's vent. All you need is to pull out the wraps from the pouch and safely cover them on one of the vent blades to conceal the opening side inside the vent blades. It has been given a discreet design so that you can notice the smell, not the air freshener!  It is 100 percent eco-friendly and lasts for at least 60 days.
---
2 packs of 1 vent wrap in each. Total of 2 individual Little Tree: Bayside Breeze vent wraps.
There are currently no reviews for this product.