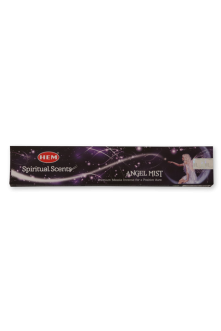 It is essential to keep our minds calm and relaxed while praying to god or meditating. Our minds must be at their maximum peace and free from all thoughts. The best way to concentrate on one thing is to let our bodies flow with the aroma around us and forget everything.
 
The HEM Spiritual Scents is one of the most premium and best incense cones that help formulate a quick fragrance and lets you dive into the divine ocean of peace.
 
When the aroma of HEM Spiritual Scents reaches your mind, it soothes and makes it calm. The natural scent of botanical herbs relaxes your rushing mind and gives it refreshing energy.
---
3 packs of 15 sticks in each. Total of 45 individual HEM Spiritual Scents: Angel Mist sticks.
There are currently no reviews for this product.