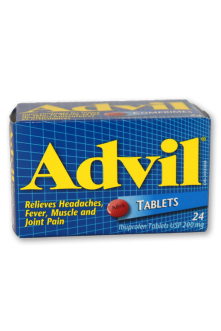 Advil Tablets 24's: Regular Strength - Pack of 1
The Advil medicines help reduce the pain caused by severe headaches, dental pains and menstrual pains. Advil tablets can also be beneficial in minor aches and relieve you from high fever and cold symptoms.
 
The fundamental limit of Advil tablets to be consumed within 24 hours is a maximum of 3 tablets taken within 4 to 6 hours of intervals.
---
1 pack with 24 tablets in each. Total of 24 Advil: Regular Strength Ibuprofen tablets.
There are currently no reviews for this product.