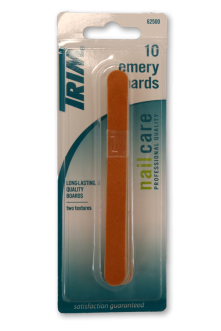 Trim: Emery Board - Pack of 1
Availability:
Not in Stock!
Get the perfect nails with our Trim Emery Boards! Each pack contains ten top-quality emery boards (nail files) that give you ultimate nail care.
Trim Emery Boards are your go-to choice whether you want to shape, smooth, or refine your nails. With a durable design, these long-lasting emery boards provide precise filing, ensuring your nails look stunning every time.
Keep one in your bag, desk, or vanity – perfect for quick touch-ups wherever you are. Achieve the manicure you desire with Trim Emery Boards, the essential tool for nail perfection.
---
1 pack of 10 emery boards (nail filers) in each. Total of 10 Trim: long lasting emery boards.
There are currently no reviews for this product.