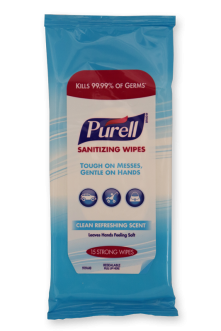 Purell: Hand Sanitizing Wipes
Introducing Purell Hand Sanitizing Wipes – your perfect on-the-go hygiene companion! Each pack contains 15 convenient wipes, ideal for quick and effective cleaning. With 15 individual packs included, you get 225 wipes in this set.
Keep germs at bay while you're out and about. These wipes defend against dirt and bacteria, offering a refreshing clean whenever needed. Compact and easy to carry, they fit seamlessly into your bag, car, or pocket.
Prioritize your well-being with Purell Hand Sanitizing Wipes – the ultimate solution for cleanliness wherever you are!
---
1 pack of 15 wipes in each. Total of 15 individual Purell: Hand Sanitizing wipes.
There are currently no reviews for this product.