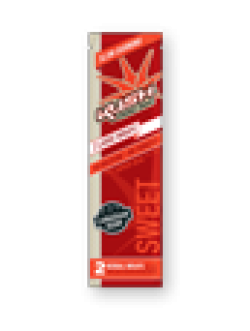 KUSH Cones: Sweet - Pack of 2
Introducing our KUSH: Berries Pre-Rolled Conical Wraps package! Inside, you'll find two packs, with two cones in each, totalling four individual cones. These pre-rolled wraps are designed for easy filling and a smooth smoking experience.
The delicious Berries flavour adds a delightful twist to your smoke. With their conical shape, they make rolling a breeze, perfect for both beginners and seasoned enthusiasts.
Elevate your smoke session with the convenience of pre-rolled cones and the tantalizing essence of Berries.
  Unwind, relax, and enjoy the rich flavour and aroma. It's time to enhance your smoking ritual with KUSH: Berries conical wraps.
---
2 packs of 2 cones in each. Total of 4 individual KUSH: Berries pre-rolled conical wraps.
There are currently no reviews for this product.