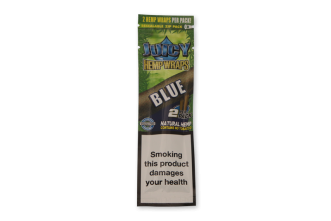 Juicy Jay Hemp Wraps - Pack of 2
2 packs of 2 wraps in each. Total of 4 individual Juicy Jay: Black N' Blueberry hemp wraps.
The Juicy Jay Black N' Blueberry Hemp Wraps! Each purchase includes two packs, with two delightful wraps in each pack, making four wraps.

These wraps are made from premium hemp designed to enhance your smoking experience.

The sweet and tangy fusion of blackberries and blueberries adds a burst of flavour to your herbs. Whether you're a seasoned smoker or new to wraps, these Juicy Jay wraps offer a smooth and flavorful way to enjoy your smoke.

Elevate your smoking ritual with the delectable taste of Black N' Blueberry hemp wraps.
 
There are currently no reviews for this product.