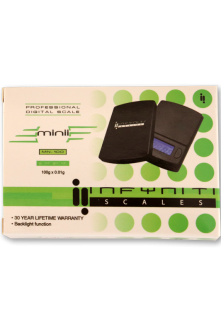 Infyniti Executive Scale: MN-100 - Pack of 1
Introducing the Infyniti MN-100 mini digital scale! Perfectly sized and designed, this scale is your ultimate partner for accurate measurements. Whether for cooking, jewellery, or hobbies, it can handle up to 100g with precision down to 0.01g.
Say goodbye to guesswork and hello to confidence in your measurements. Plus, enjoy peace of mind with our remarkable 30-year lifetime warranty.
With the Infyniti MN-100, you're getting a compact scale that's big on accuracy and backed by our commitment to quality. Upgrade your measuring game today!
---
Total of 1 Infyniti: MN-100 mini digital scale. Measures up to 100g with a 0.01g accuracy.
There are currently no reviews for this product.