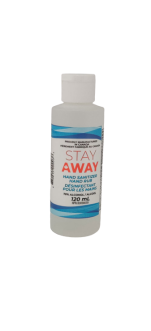 Hand Sanitizer: Stay Safe
With the emerging effects of the pandemic, we have learnt to live with masks and sanitizers. We have clearly understood the great significance of sanitizers in our lives. The STAY AWAY SANITIZER is a perfect product.
It is made with 100% natural ingredients and contains mild rubbing alcohol, which does not harm the hands and keeps them soft. The STAY AWAY SANITIZER is free from harsh chemicals and toxic drinks. 
The STAY AWAY SANITIZER is FDA approved and is 99% effective in killing dangerous germs. 
The STAY AWAY SANITIZER is a gel-based sanitizer that instantly gets absorbed in the skin after vanishing all the germs and bacteria. 
---
Total of 1 individual Stay Safe 120ml hand sanitizer bottle. Liquid-type hand sanitizer. Expiry: 05/22.
There are currently no reviews for this product.