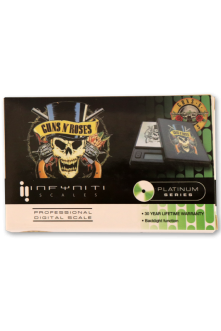 Guns N Roses Infyniti Scale: Platinum Series - Pack of 1
Availability:
Not in Stock!
It introduces the Guns N' Roses Infyniti: Platinum Series digital scale. It is designed for precision and measures up to 50g with an impressive 0.01g accuracy. With its sleek Platinum Series design, it boasts a lifetime warranty of 30 years, ensuring lasting reliability.
The built-in backlight function enhances visibility in any lighting, making it easy to read measurements. Whether for jewellery, cooking, or hobbies, this scale blends accuracy and style in one package.
Join the Infyniti experience, backed by the iconic Guns N' Roses name, and elevate your weighing needs with this rock-solid, platinum-performing digital scale.
---
Total of 1 Guns N Roses Infyniti: Platinum Series digital scale. Measures up to 50g with a 0.01g accuracy.
There are currently no reviews for this product.